I believe that every woman should have certain necessities in her wardrobe. Everything from the perfect pair of pumps, one good pair of jeans and dress pants, a flattering classic tailored jacket, to the perfect dress that can be used for either a work situation or going for cocktails. Personally I think the same goes for my dolls.
I know that some of us collectors like to redress our dolls, but we all tend to run into that wall at some point that I like to call "the dolly budget".
After buying a doll that I have been drooling over, I tend to be short of funds to help that new girl out with clothing. I want to be able to redress her and see what other looks I can come up with, for her or some of my older favorites; it keeps my collection looking fresh. Many times I come across clothing (as sets) that may have one or two pieces that I like, but just not enough to spend the full amount of money to buy it, I'd rather save that cash for a new doll.
So, I'm sure your asking me what the heck I'm babbling about at this point. Well, if you were paying attention to the title and first paragraph I mentioned something about the perfect dress.
My first convention, almost three years ago in Baltimore, I was introduced to Dressmaker Details. I had seen some of their product online through some of the dealers sites that carried them, but didn't know enough about them to take the plunge. I happen to be one of those people who needs to see an item in person before I buy. A picture can be mighty purdy, but it's meant to entice, and honey, I wasn't born yesterday. A penny doesn't leave these pockets unless I know what I am paying for.
After seeing these products in person and being impressed with the quality, I ended up taking a chance and buying a few outfits as well as a few simple sheath dresses. I think that I was more excited about those dresses due to all the possibilities of how to accessorize them on my dolls. I loved that they didn't cost an arm and a leg, but were well made and gave just enough of a design to either let my girls just wear the dress with nothing but the accompanying heels that also come with it or glam her up as the material warrants.
So, here is a little sample of some of my girls, redressed in their perfect sheath dresses. The pattern of the dress shape is basically the same, but each is in a different print and/or color.
Please note that these dresses are made for the 11 1/2" dolls (Barbie, Fashion Royalty, Etc). Nu Face dolls have a smaller bust line but can fit just fine (may need to stuff her top to keep from flattening).
Fashion Royalty & Nu Face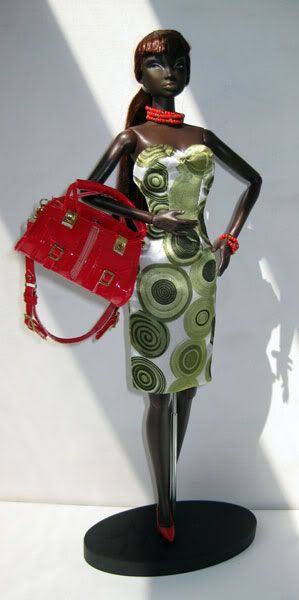 Silkstone & Model Muse Barbie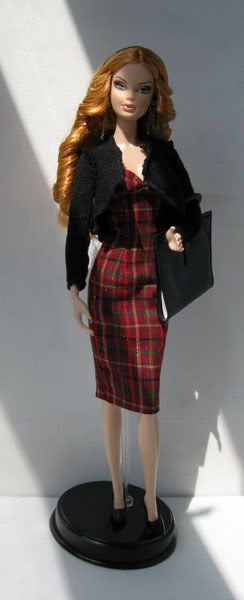 ...And if you are interested in learning more about Dressmaker Details and where to purchase some of these fabulous dresses (or outfits) please see their official page.
Dressmaker Details